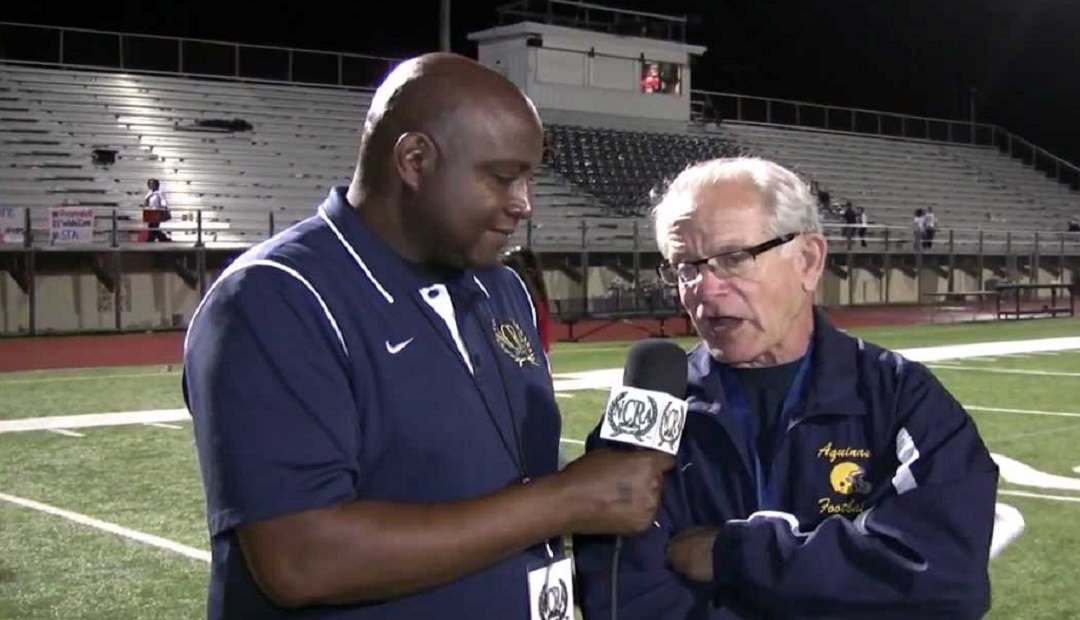 An era will come to an end when the 2020-2021 school year finishes.
Dr. Denise Aloma, Principal at St. Thomas Aquinas High School, announced the retirement of Coach George Smith as Athletic Director, effective at the end of the school year.

Coach Smith has been Teacher, Coach, Athletic Director, mentor and friend to thousands at STA for the past 49 years. Coach Smith has been the foundation of one of the country's most recognized and successful high school athletic programs. He has established the standard for athletics at STA, in Broward County, the State of Florida and the entire country.

Smith was hired as History and Physical Education Teacher at STA in 1972. He started the Wrestling program at STA in 1972 and continued as Head Wrestling Coach until 1978. Smith posted an overall record of 72-19 and was named Wrestling Coach of the Year in 1973-74 by the Miami Herald and twice for South Atlantic Conference.

In 1975, Coach Smith was named Head Football Coach and the Raiders began an unprecedented sprint towards excellence for the next 33 years. Under Smith's helm, the Raiders went 361-66 amassing 18 District Championships, 8 undefeated regular seasons, 6 State Championships, and 7 State Runner-ups. Under Coach Smith, St. Thomas led the State in most appearances in the tournament series with a 69-20 record. As Head Coach, Smith holds the record (13) for appearances in the State Tournament Series. Smith is the third-winningest Football Coach in Florida history. In Coach Smith's years as Head Coach, 580 players went on to play college football, 30 of which continued on to the pros.

Smith took on the leadership role as STA's Athletic Director in 1982. His vision and community development provided the platform for the program's rise towards State and National prominence. St. Thomas is a Nike Elite School and Gatorade Top 25. Raider Football appeared on National networks at least once for the last 14 years. Coach Smith has been instrumental in massive renovation efforts on campus, most significantly state of the art athletic facilities that include: the George Smith Athletic Center (Athletic Offices, Fitness Center, Varsity Locker Rooms,Weight Room, Wrestling Facility), Synthetic Track, Turf Fields (Baseball, Football/Soccer/Lacrosse, Practice Field, and Softball), and most recently a Practice Gym for Basketball and Volleyball. Currently more than 1,000 student-athletes participate on 34 teams at STA. During his 39 year AD tenure, Raider Athletics has accomplished the following:
⦁ 111 FHSAA State Championships
⦁ 13 National Championships
⦁ Broward County All County Sports Trophy (39 years)
⦁ Florida Athletic Coaches Association Top 7A School (29 of 30 years)
⦁ Florida Athletic Coaches Association Program of the Year Award (26 of 27 years)
⦁ Florida High School Activities Association Champion Award (16 years in a row)
⦁ MaxPreps National High School Athletic Program of the Year
⦁ Miami Herald Best Overall Athletic Program (39 years)
⦁ Sports Illustrated #3 National High School Athletic Program
⦁ Student Sports Magazine top 6 National High School Sports Program of the Year
⦁ Sun Sentinel Best Overall Athletic Program (26 years)
Coach George Smith accolades:
⦁ American Football Coaches Association Power of Influence Award
⦁ Broward County 50 Most Influential People
⦁ Broward County Sports Hall of Fame
⦁ Broward County Wrestling Coaches Hall of Fame
⦁ City of Fort Lauderdale "Walk of Fame"
⦁ ESPN Rise, Rival Sports and USA Today National Football Coach of Year
⦁ Florida Athletic Coaches Association Hall of Fame
⦁ FHSAA Hall of Fame Inductee
⦁ FHSAA All Century Coaching Staff
⦁ MaxPreps 12th Best Coach of All Time
⦁ Miami Dolphins named Annual George Smith Coach of Year Award
⦁ Miami Herald Broward County Football Coach of the Year
⦁ National High School Athletic Coaches Association Hall of Fame
⦁ NFL Don Shula Coach of Year Award Nominee
⦁ NFL High School Coach of the Year Nominee (7 years)
⦁ USA Today National High School Football Coach of the Year

More than the victories and awards Smith is most proud of the legacy left on the STA campus and the drive he inspired in the hearts of the athletes he has come to know and love. "What happens off the field is the greatest reward", Smith said. Due to Smith's athletic leadership hundreds of Raider athletes continued their athletic career in college. His commitment to excellence and motivation is recognized by professional athletes in Baseball, Basketball, Football, Golf, Soccer, Track and Volleyball and Olympic athletes in Volleyball, Track & Field, Soccer, and Swimming.

Principal Dr. Denise Aloma speaks of her colleague and friend, "For almost 50 years, as Teacher, Coach, and AD George Smith has set the highest of goals for athletes, coaches and all of Raider Athletics. His leadership and commitment provided the platforms to consistently surpass those goals. His selfless, tireless, extradentary contribution to the success of the program is etched in the halls of STA. The hearts and minds of all of us blessed to have known him are strengthened."

Msgr. Vincent Kelly, Former Supervising Principal, reflects "George Smith has provided exceptional leadership and motivation for our athletes and the entire STA community. We are exceptionally proud of his achievements in the athletic field and also appreciative of the assistance he has given in the placement of athletes in prestigious colleges throughout the nation. George Smith has made a vibrant contribution to the lives of thousands of students and adults. Through the medium of football and athletics in general, he has given so many the awareness and then the development of their own personal dignity, their natural talent and their potential for leadership in the future. We are truly grateful to George for a life of dedicated service, not only to youth, but to all of us. God Bless."

Sister John Norton - Former Principal of St. Thomas Aquinas High School
I profoundly admire George Smith for his tremendous hard work, dedication and commitment to the growth and development of the athletic program at St. Thomas Aquinas High School. For almost fifty years he has met numerous challenges to provide one of the finest sports programs in any high school. Beyond his athletic achievements George provided opportunities for young people to become excellent, thriving individuals and outstanding human beings. When I was the principal I was able to bring numerous students to George for his guidance and direction. His love and concern for young people is extraordinary and he has been responsible for assisting hundreds of young people and guiding them on the road that gave them a good life. George took the program at St. Thomas to its peak performance but he also raised young people to their peak performance, to live a good, quality life. George should be remembered for his contributions to the lives of young people.