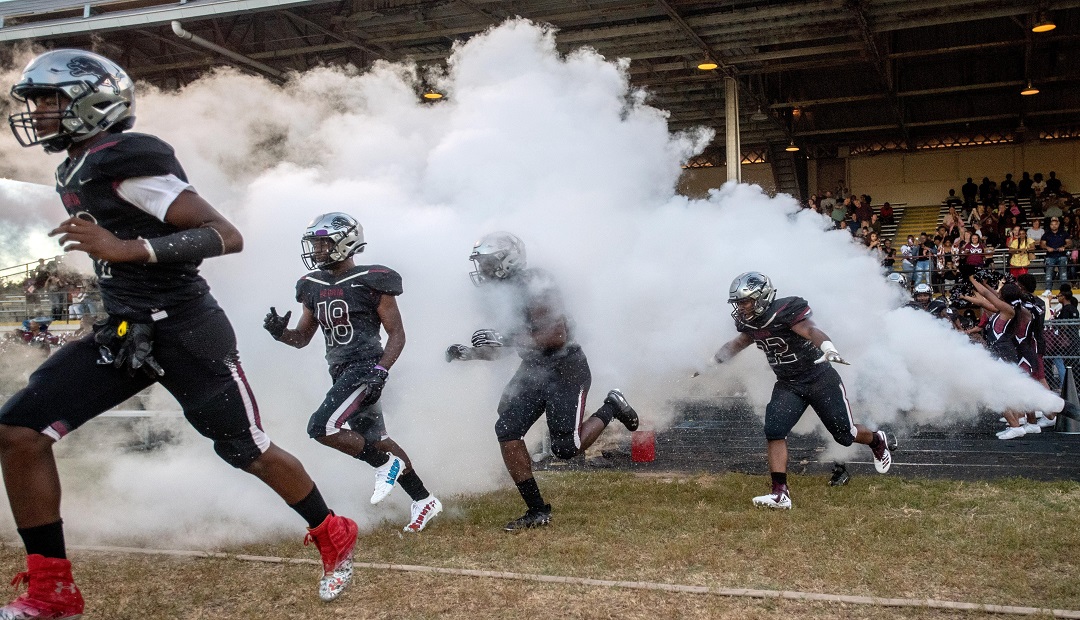 Battle of The Unbeatens: Fort Lauderdale & Blanche Ely Clash Tonight
At the start of the 2022 season if anyone told you that one of the big Week 6 matchups in south Florida would be Fort Lauderdale and Pompano Beach Blanche Ely, you may not have taken them too seriously.
But as Hurricane Ian has ravaged the state and altered several games in Miami-Dade and Broward Counties, the No. 13 Flying Ls (4-0) and No. 16 Tigers (3-0) will clash this evening in a game that had certainly earned the spotlight.
For head coach Richard Dunbar and his Fort Lauderdale team, things have been moving along quite well over the past five seasons – as players and coaches have worked hard to make this season a reality.
Among some of the top seniors so far this season are Pat Boyd (WR), Jermarri Watson (WR), Ernest Joseph (RB), King Williams (LB/RB), Jalyn Jackson (Athlete), Monroe Allen (OLB/DE), John Alcime (DL), Athlete Za'mario Dunrod, T.J. Nelson (QB) and quarterback Luca Foerch.
The junior class has also been impressive - with receiver Keyveon Johnson, Remington Roberts (DB), Semaj McClain (OLB/DE), Elijah Bernard-Blue (CB) and safety/linebacker Celci Simons.
Sophomore running back Christian Bailey has also been impressive.
FORT LAUDERDALE FLYING LS
DEERFIELD BEACH, W 23-15
HALLANDALE, W 31-6
Tallahassee Leon, W 38-0
Lauderdale Lakes Boyd Anderson, W 27-0
9/30 - At Pompano Beach Blanche Ely
10/7 – COCONUT CREEK
10/14 – At Fort Lauderdale St. Thomas Aquinas
10/22 – At Fort Lauderdale Dillard
10/28 – WESTON CYPRESS BAY
11/4 – At Fort Lauderdale Stranahan
TIGERS RESTORING THE "ROAR"
When Mike Bailey took over as head coach of Blanche Ely, the one thing he promised was his team would play hard and take each game one at a time.
Despite having a few games postponed, he leads his Tigers into this evening's game with plenty of optimism.
Among the top players so far this season in the senior class are impressive defensive secondary performer Harlem Howard, quarterback Nah'coy Daniels, outside linebacker Javin Farley, running back Cedric Ward, running back Ke'Shawn Jones, offensive lineman Roscoe Harris and defensive linemen Rackwon Pericles and Kamari Fredrick.
Juniors have also played a key role – with Marcel Williams (WR) and running back Edward McIntosh III.
POMPANO BEACH BLANCHE ELY TIGERS
WESTON CYPRESS BAY, W 42-7
Coral Springs, W 42-0
Coconut Creek, W 28-21
9/30 – FORT LAUDERDALE
10/14 – At Deerfield Beach
10/28 – WEST BOCA RATON
11/5 – At Fort Lauderdale Dillard
Here are some other Friday games to keep an eye on:
FRIDAY'S GAMES
Coral Gables (3-0) at Miami Palmetto (1-3), Tropical Park, 3:30
Hialeah Gardens (2-2) at Westland Hialeah (3-1), Milander, 7:30
Hialeah Miami-Lakes (1-3) at Mourning (1-3), North Miami Stadium, 3:30
Miami Carol City (0-3) at Miami Gardens Monsignor Pace (2-3), 7:30
No. 5 Miami Christopher Columbus (5-0) at Miami High (2-1), Curtis Park, 7:30
Miami Coral Park (3-1) at Doral Ronald Reagan (0-3), 3:30
Miami Ransom Everglades (3-1) at Tavernier Coral Shores (3-1), 7:00
Miami Southwest (0-4) at Miami Belen Jesuit (3-2), 7:30
Miami Springs (1-3) at Miami St. Brendan (2-2), 7:00
Miami Sunset (2-3) at Miami Varela (0-4), 3:30
Miami True North (3-2) at Miami Archbishop Carroll (4-0), 3:30
North Miami (1-4) at Miami Beach (1-3), Memorial, 7:00
North Miami Beach (2-2) at No. 1 Miami Central (4-0), Traz Powell Stadium, 7:30
Oakland Park Northeast (0-5) at Fort Lauderdale Pine Crest (4-1), 7:00
Pembroke Pines Somerset (2-2) at Pembroke Pines West Broward (2-2 – Pines Charter), 7:00
Somerset Homestead (2-2) at Miami Palmer Trinity (2-2), 4:00
No. 19 South Miami (3-0) at No. 7 Homestead (4-0), Harris, 7:30
SATURDAY'S GAMES
Hialeah (3-0) at Hialeah Gardens Mater Academy (0-5), Milander, 7:00
No. 10 Miami Booker T. Washington (4-1) at Miami Jackson (3-2), Traz Powell, 1:00
Miami Braddock (3-1) at Miami Ferguson (3-1), Tropical, 7:00
No. 6 Plantation American Heritage (4-1) at No. 4 Fort Lauderdale Cardinal Gibbons (5-0), 12 noon
MONDAY'S GAMES
Boca Raton Olympic Heights (1-4) at No. 18 Coconut Creek Monarch (4-1 – Coconut Creek), 5:00
Cooper City (0-5) at Pembroke Pines Flanagan (1-4), 7:00
Coral Springs Coral Glades (0-4) at Weston Cypress Bay (2-2), 7:00
Fort Lauderdale Calvary Christian (4-1) at Coral Springs Charter (2-2), 7:00
Hialeah American (1-3) at Miramar Everglades (2-2), 6:00
Hialeah Barbara Goleman (2-2) at Doral Academy (3-2), 6:00
Hollywood McArthur (2-2) at Hollywood Hills (2-2), 4:00
Miami Killian (1-4) at Miami Gulliver Prep (0-3), Tropical, 7:30
Miami Immaculata LaSalle (3-1) at Miami Edison (1-3), Traz Powell 7:00
Parkland Douglas (1-3) at Coral Springs (2-2), 6:00
West Boca Raton (3-2) at Deerfield Beach (2-3), 7:00
TUESDAY'S GAME
Port St. Lucie Treasure Coast (1-4) at No. 2 Hollywood Chaminade-Madonna (5-0), 6:00
STATEWIDE SCOREBOARD
MONDAY'S GAMES
Lakeland 47, Lakeland Lake Gibson 14
Yulee 49, Port St. Lucie Tradition Prep 6
TUESDAY'S GAMES
Gainesville PK Yonge 15, Alachua Santa Fe 0
St. Augustine Menendez 23, Gainesville 14
Jacksonville University Christian 34, Jacksonville Providence 7
WEDNESDAY'S GAMES
Norman Park Colquitt County 30, Tallahassee Lincoln 7
Santa Rosa Beach South Walton 46, Panama City Rutherford 6
Tallahassee North Florida Christian 58, Tallahassee Maclay 7
TRACKING SOUTH FLORIDA (MIAMI-DADE & BROWARD) PROSPECTS – CLASSES 2023-2026. https://larryblustein.com/prospects/tracking-south-florida-prospects
For the past 52 years, we have spent plenty of time on football fields than anyone in the country. From games to practices, camps, combines and 7-on-7 events, we get to as many events as possible to see the athletes LIVE. Follow us on Facebook (Larry Blustein) Instagram (@OurBoyBlu) and Twitter (@larryblustein). Contact us at: This email address is being protected from spambots. You need JavaScript enabled to view it..