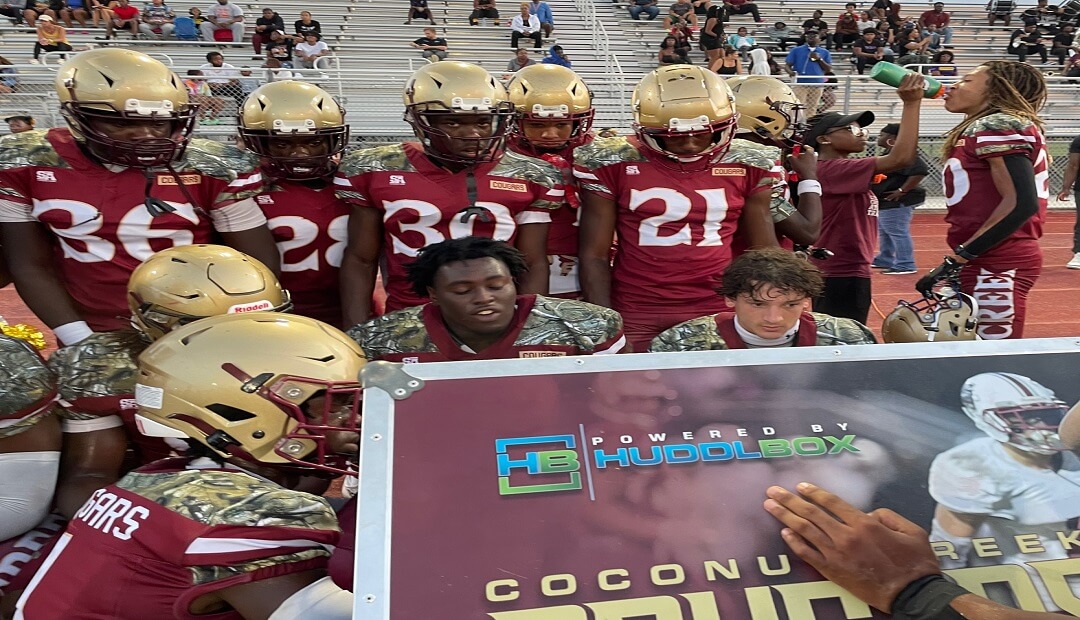 No. 1 Hollywood Chaminade at No. 10 Coconut Creek, 7. Over the past decade plus, Hollywood's Chaminade-Madonna has played in so many huge football games on the way to several state championships and even a national title.
The Lions have been in the spotlight on a national level and have had their share of elite games – home and away.
Coming off a nationally televised win against Miami Central last Thursday, they head into this evening's game just looking to come out healthy as they are now an overwhelming choice to not only win the 1M state title game, but keep themselves relevant in the race for a national crown.
Over the past decade, head coach Dameon Jones and his football team have compiled a 90-18 record and have remained as one of the top programs nationally.
In games such as tonight, against Fort Lauderdale Dillard, Boca Raton Saint John Paul II and St. Petersburg Lakewood, they will be three to four touchdown favorites. Even in the state playoffs, this team will NOT be pushed – boasting as many elite athletes and quality coaches as any high school program in the country.
THIS IS VERY NEW TO COCONUT CREEK
On the other side of the field tonight are head coach Johnnie Sloan and the Cougars.
This is a football program that has had moderate success over the past four decades, boasting some talent, but truthfully never enough to make a serious post season run.
What this team faces tonight is the biggest matchup this school has ever had on the football field. No game has ever meant more to a team, student body and administration like this one. Having the No. 1 team in the state and top three nationally on campus is something that is beyond words for the Cougars.
For this program, it is the culmination of a four-year build – when Gerald Cox passed the torch on to this next group of coaches.
No matter what happens this evening, this year has already been a major success for this team who has run a gauntlet against Georgia power Gainesville and three other teams who many picked – before the season – to be heavily in the state playoff mix.
Wins against Western (20-15), longtime rival Plantation (36-6) and a Pompano Beach Blanche Ely (26-7) team that had won 13 straight regular season games is a calling card that this team is proud of.
In their wildest dreams, this team could never have predicted that this game tonight would attract a spotlight, and while nobody is giving them any chance at all, they have already won – being in a game of this magnitude!
HOLLYWOOD CHAMINADE LIONS (1M, 5-0)
Baltimore St. Frances Academy, W 35-14
Fort Lauderdale Cardinal Gibbons, W 41-4
Bergen Catholic, New Jersey, W 61-21
Plantation American Heritage, W 28-16
Miami Central, W 31-28
9/29 – Coconut Creek
10/7 – at Fort Lauderdale Dillard
10/28 – at Boca Raton Saint John Paul II
11/3 – at St. Petersburg Lakewood
5 LIONS TO WATCH
2025 – Chris Ewald, CB, 6-1, 170
2024 – Davion Gause, RB, 5-11, 200
2024 – Zaquan Patterson, S, 6-1, 190
2024 – Jeremiah Smith, WR, 6-3, 200
2024 – Joshisa Trader, WR, 6-2, 180
COCONUT CREEK COUGARS (3M, 4-1)
Lauderdale Lakes Boyd Anderson, W (forfeit)
Gainesville, Georgia, L 30-22
Western, W 20-15
Plantation, W 36-6
Pompano Beach Blanche Ely, W 26-7
9/29 – Hollywood Chaminade-Madonna
10/6 – Fort Lauderdale
10/13 – West Boca Raton
10/20 – at Hollywood McArthur
10/27 – Deerfield Beach
5 COUGARS TO WATCH
2025 – Nimari Brantley, DT, 6-2, 270
2024 – James Hayes, QB, 6-4, 230
2024 – Jamarie Hostzclaw, RB, 5-9, 165
2024 – Hyajah Miller, CB, 6-2, 160
2024 – Martin Montero Jr., DE, 6-0, 220
In addition to that matchup, here is a look at the Miami-Dade and Broward schedule for Week 6:
FRIDAY, SEPTEMBER 29
Coral Springs at Parkland Stoneman Douglas, 7
Coral Springs Charter at Coral Springs Taravella, 4
Deerfield Beach at West Boca Raton, 6:30
No. 11 Fort Lauderdale Cardinal Gibbons at No. 7 Plantation American Heritage, 7:30
Fort Lauderdale Pine Crest at Oakland Park Northeast, 7
Fort Lauderdale Stranahan at Hallandale, 7
Homestead Everglades Prep at Miami Archbishop Carroll, 3:30
Homestead South Dade at Homestead Somerset Silver Palms, 7:30
Miami Carol City at Miami Gardens Monsignor Pace, 7
Miami Florida Christian at Marathon, 7
Miami Killian at Miami Gulliver, 4
Miami Northwestern at West Palm Beach Cardinal Newman, 7
Miami Palmer Trinity at Somerset South Homestead, 7
No. 8 Miami Palmetto at Coral Gables (Tropical), 3:30
Miami Ransom Everglades at Coral Shores, 7
Miami St. Brendan at Miami Springs (Curtis), 7:30
Miami Varela at Miami Sunset (Tropical), 7:30
Miami Westminster Christian at Goulds Palm Glades Prep, 4
Miramar at No. 4 Fort Lauderdale St. Thomas Aquinas, 7
Miramar Everglades vs. Hialeah American (Milander), 7
North Miami Beach at No. 2 Miami Central (Traz Powell), 7:30
Pembroke Pines Flanagan at Cooper City, 7
Pembroke Pines West Broward at Pembroke Pines Somerset Academy, 7
No. 12 Plantation at South Plantation, 7
No. 14 Pompano Beach Blanche Ely vs. Fort Lauderdale (Lockhart), 7
Riviera Beach Inlet Grove at Fort Lauderdale Calvary Christian, 7
Southwest Ranches Archbishop McCarthy at Pompano Beach, 7
Weston Cypress Bay at Coral Springs Coral Glades, 7
THURSDAY SCOREBOARD
Coconut Creek Monarch 45, Boca Raton Olympic Heights 0
Davie Western 49, Sunrise Piper 0
Doral Ronald Reagan 21, Miami Coral Park 18
Fort Lauderdale NSU University School 35, West Palm Beach Oxbridge 0
Hialeah 51, Hialeah Gardens Mater Academy 7
Hialeah Gardens 32, Westland Hialeah 14
Hollywood McArthur 41, Hollywood Hills 13
Miami Booker T. Washington 37, Miami Jackson 0
Miami Braddock 29, Miami Ferguson 26
Miami Christopher Columbus 44, Miami High 0
Miami Edison 28, Miami Immaculata LaSalle 0
North Miami Mourning 30, Hialeah-Miami Lakes 0
WEDNESDAY SCOREBOARD
Doral Academy 21, Miami Lakes Goleman 16
SATURDAY, SEPTEMBER 30
Fort Lauderdale Dillard at Lauderdale Lakes Boyd Anderson, 7
Miami Belen Jesuit at Southwest Miami (Tropical), 7
Miami Beach at North Miami (Milander), 7
TRACKING SOUTH FLORIDA (MIAMI-DADE & BROWARD) PROSPECTS – CLASSES 2024-2027. LAST UPDATED: September 29, 2023. https://larryblustein.com/prospects/tracking-south-florida-prospects COLLEGE COACHES ARE WATCHING ALL THE TIME, SO LET'S KEEP UPDATING – This email address is being protected from spambots. You need JavaScript enabled to view it..
Transfer Season Heats Up In Miami-Dade & Broward. https://larryblustein.com/news/transfer-season-heats-up-in-miami-dade-broward
For the past 53 years, we have spent plenty of time on football fields throughout the country. From games to practices, camps, combines and 7-on-7 events, we remain steadfast to promote all south Florida's high school football prospects. Follow us on Facebook (Larry Blustein) Instagram (@OurBoyBlu) and Twitter (@larryblustein). Contact us at: This email address is being protected from spambots. You need JavaScript enabled to view it..