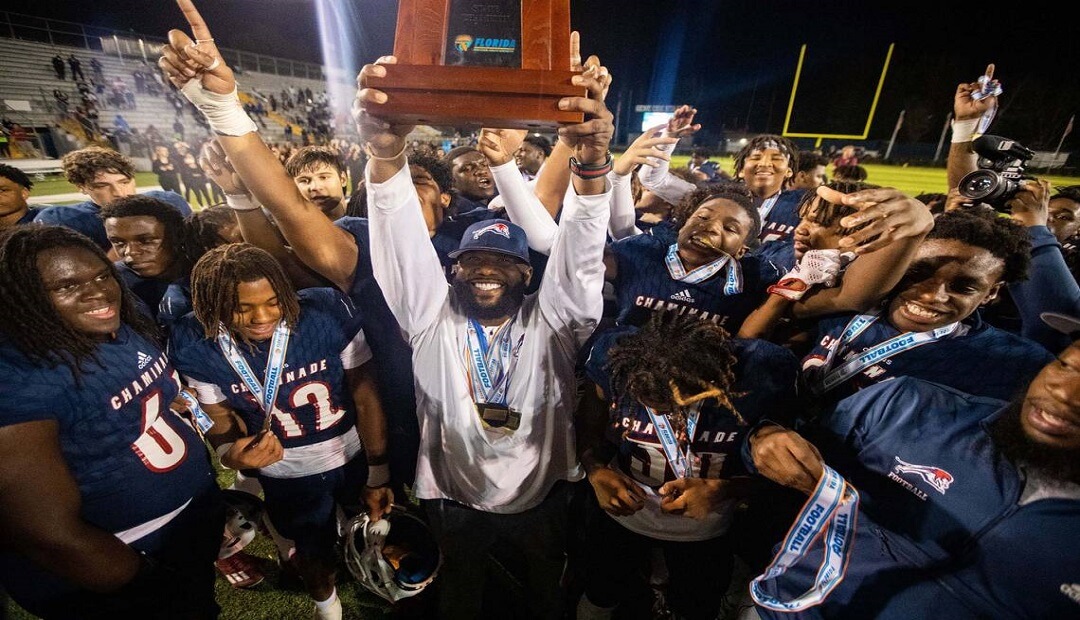 It's been nearly one year since Chaminade-Madonna traveled to Traz Powell Stadium to take on Miami Northwestern.
It was a matchup that many had looked forward to as two of south Florida's powerhouses were getting together and putting it on the line.
After the Thursday meeting was called because of Lightning, the contest was moved two days later, and while it wasn't the same atmosphere as it would have been on that Thursday, the Lions came out and took it to the Bulls and never looked back.
Beating them in every phase of the game, Chaminade-Madonna took home a convincing 42-14 and used it as a springboard to yet another state title – beating Clearwater Central Catholic in the 1M title state championship game in Tallahassee.
Tonight (7:00), while it's just a kickoff classic, the Lions once again return to Traz Powell Stadium.
While the Bulls have a tough opener on the road in Vero Beach, and the Lions will faceoff with national powerhouse St. Frances Academy on ESPN, this game means more than people think. It's an opportunity for Chaminade and head coach Dameon Jones to show why they are favorites to win another state crown – while first year head coach Michaelee Harris is out to get his alma mater off to a great start in his first game.
In addition to this game, there are other quality matchups tonight to get the year under way:
CHAMINADE-MADONNA 2022 (13-1)
St. John's Washington DC, W 35-28
Fort Lauderdale Dillard, W 49-28
Miami Northwestern, W 42-14
Miami Gulliver Prep, W 28-0
Deerfield Somerset Academy Key, W 90-0
Hollywood Avant Garde, W 63-0
Boca Raton St. John Paul II, W 63-0
Port St. Lucie Treasure Coast, W, 45-6
STATE PLAYOFFS
Avant Garde, W 48-0
West Palm Beach Cardinal Newman, W 49-16
Miami True North Classical Academy, W, 56-0
Clearwater Central Catholic, W 49-14 (1M STATE CHAMPIONSHIP)
GEICO BOWL, LAS VEGAS
Las Vegas Bishop Gorman, L 49-14
LIONS 2023
8/26 – St. Frances Academy, Maryland
9/1 – Cardinal Gibbons
9/8 – Bergen, Catholic. New Jersey
9/15 – Plantation American Heritage
9/21 – Miami Central
9/29 – Coconut Creek
10/7 – Dillard
10/21 – Hollywood Avant Garde Academy
10/26 – Boca Raton St. John Paul II
11/3 – St. Petersburg Lakewood
MIAMI NORTHWESTERN 2022 (6-5)
Venice, W 32-26
Miami Jackson, W 44-0
Hollywood Chaminade-Madonna, L 42-14
Miami Edison, W 42-22
Miami Christopher Columbus, L 23-19
Miami Central, L 42-7
Miami Booker T. Washington, W 26-7
Homestead, L 44-28
Miami Immaculata LaSalle, W 44-0
STATE PLAYOFFS
Miami Gulliver Prep, W 39-0
Miami Central, L 34-30
BULLS 2023
8/25 – Vero Beach
8/31 – Miami Jackson
9/9 – Venice
9/14 – Miami Edison
9/21 – Miami Christopher Columbus
9/29 – West Palm Beach Cardinal Newman
10/6 – Miami Central
10/12 – Miami Booker T. Washington
10/27 – Miami LaSalle Immaculata
WEDNESDAY'S RESULTS
Miami Florida Christian 21, Southwest Miami 0
Miramar 21, Miami Edison 0
TONIGHT'S GAMES
Clearwater Academy International, at Homestead (Harris), 7
Coral Springs Taravella at Cooper City, 6
Davie Western at Parkland Douglas, 6
Deerfield Beach at Dillard, 6:30
Greenacres John I. Leonard at Palm Glades, 3:30
Hollywood McArthur at Davie Nova, 7
Miami Ferguson at Miami High (Curtis), 7
Miami Killian at Weston Cypress Bay, 7
Miami Palmetto at Doral Academy, 7
Miramar Everglades at Miami Belen Jesuit, 7
Plantation at Fort Lauderdale Cardinal Gibbons, 7
South Plantation at Pembroke Pines West Broward (Everglades), 7
FRIDAY, August 18
Coconut Creek Monarch at Coconut Creek, 7
Coconut Creek North Broward Prep at Fort Lauderdale Westminster Academy, 7
Fort Lauderdale NSU University School at SW Ranches Archbishop McCarthy, 7
Fort Lauderdale Stranahan at Miami Gardens Monsignor Pace, 7:30
Hialeah American at Harmony, 7
Hialeah Miami-Lakes at Miami Lakes Barbara Goleman (Milander), 7:30
Lauderdale Lakes at Coral Springs Coral Glades, 7
Marathon at Miami Varela, 3:30
Miami Archbishop Carroll at Miami Gulliver Prep, 3:30
Miami Booker T. Washington at Plantation American Heritage, 7
Miami Braddock at Hollywood Hills, 4
Miami Carol City at Miami Southridge, 7:30
Miami Central at Ocala Vanguard, 7
Miami Dr. Krop at Pembroke Pines Flanagan, 7
Miami Norland at Pompano Beach Blanche Ely, 7
Miami Springs at Hollywood South Broward, 6
Miami Sunset at Lasalle 3:30
Miami True North Academy at South Miami (Tropical), 7
North Miami at Immokalee, 7
North Miami Mourning at Miami Beach, 3:30
Oakland Park Northeast at Hialeah Gardens, 3:30
Somerset vs. Hollywood Avant Garde (Ansin Park), 7
Somerset Pembroke Pines at Coral Shores, 7
Somerset Silver Palms at Homestead South Dade (Harris Field), 7:30
TRACKING SOUTH FLORIDA (MIAMI-DADE & BROWARD) PROSPECTS – CLASSES 2024-2027. LAST UPDATED: August 16, 2023. https://larryblustein.com/prospects/tracking-south-florida-prospects COLLEGE COACHES ARE WATCHING ALL THE TIME, SO LET'S KEEP UPDATING – This email address is being protected from spambots. You need JavaScript enabled to view it..
Transfer Season Heats Up In Miami-Dade & Broward. https://larryblustein.com/news/transfer-season-heats-up-in-miami-dade-broward
For the past 53 years, we have spent plenty of time on football fields throughout the country. From games to practices, camps, combines and 7-on-7 events, we remain steadfast to promote all south Florida's high school football prospects. Follow us on Facebook (Larry Blustein) Instagram (@OurBoyBlu) and Twitter (@larryblustein). Contact us at: This email address is being protected from spambots. You need JavaScript enabled to view it..
Miramar, Miami Edison Get Things Going This Evening. https://larryblustein.com/news/miramar-miami-edison-get-things-going-this-evening