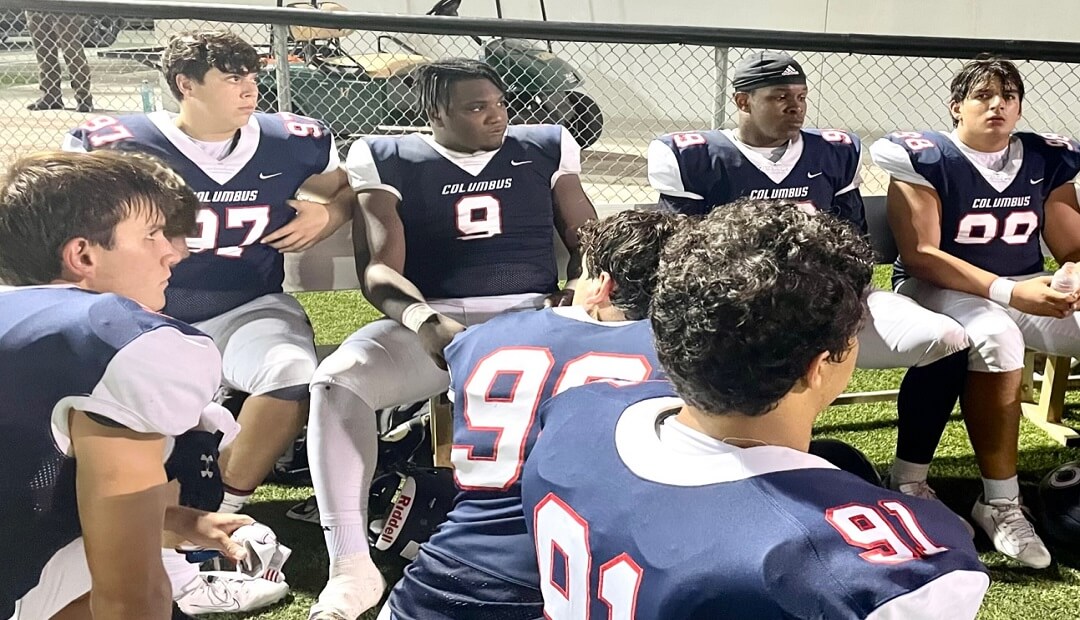 It was to be the most competitive week of football in the 2022 season.
When the season began, everyone circled Week on their calendars – with as many as four marquee matchups going on in the two counties.
With more and more football fans across the country understanding that this region of the state is NOT just one or two teams grabbing the spotlight.
Florida fans, coaches and players are tired of many of these national powers getting the attention when they are playing a limited schedule. The challenge has always been to have any of those programs that are so well respected nationally play a schedule that Miami Central, Hollywood Chaminade-Madonna, Fort Lauderdale St. Thomas Aquinas, Miami Christopher Columbus and Plantation American Heritage has to play each year and see if they end up unbeaten. The answer is positively NO.
Taking nothing away from some of these national powerhouse, but there is no way they lineup and play marquee teams every week.
Not to spend any more time proving a point, we will instead look back at what happened this past week.
Playing in one of the most heated rivalries in the nation, two PUBLIC schools – Miami Central and Miami Northwestern, met at The Mecca – Traz Powell Stadium – before a capacity crowd as the Rockets and first year head coach Jube Joseph, who have never been afraid to play the best in the country, emerged with a convincing 42-7 win over the Bulls, who are in a rebuild year.
That victory put a stamp on what many have felt all along. There is certainly no public school program in the nation can boast the talent, schedule and support this team has. Eight state titles and too many prospects to name.
Speaking about dominating teams, Chaminade-Madonna and coach Dameon Jones are simply on the verge of doing something no other Florida program has accomplished. Another state title appearance and that will be seven straight – winning four of the past six championships, and next year they will be even better.
The Lions had two crucial games cancelled when Port St. Lucie Treasure Coast and Venice could not find makeup dates to play this team that has been off for two years.
Another program that has more than shown that they can stand toe-to-toe with anyone are head coach Roger Harriott's Raiders of St. Thomas Aquinas. With more players competing professionally than any other in the country. With three consecutive state titles, this is always going to be a program that is mentioned by everyone at the start and end of each season.
The Raiders were also in action last Friday night in a game that could go a long way in determining the district champion and top seeding in the region. St. Thomas Aquinas beat Fort Lauderdale Dillard, 24-6.
Two programs that are always mentioned in the race for a state title, but were forgotten by many at the start of this season are Christopher Columbus and American Heritage.
All head coach Dave Dunn and his Explorers have done is win, produce talent and shine a rather large spotlight on this team.
While several programs were mentioned in the newly formed Class 4M(etro) at the start of 2022, Christopher Columbus was taken for granted. That was a mistake.
All this program has accomplished so far is a perfect 6-0 start – including a 21-6 win over previously unbeaten Homestead on Friday.
For first year coach Mike Smith and his Patriots of American Heritage this has been a year of showing that this team is indeed for real.
Beating Davie Western, 42-18, this is a team that is trying to stay in the hunt for a 2M state championship appearance.
Other than losing a tough game to Chaminade-Madonna, this program has rolled to six wins with plenty of talent and tremendous coaching.
In addition to those five programs, this past week shined a spotlight on Miami-Dade and Broward Counties. Here's a look at those games:
Coconut Creek 42, Fort Lauderdale 7
Coconut Creek Monarch 42, Hollywood McArthur 13
Cooper City 15, SW Ranches Archbishop McCarthy 13
Coral Springs Charter 60, Oakland Pak Northeast 27
Coral Springs Coral Glades 27, Coral Springs 0
Deerfield Beach 35, Lauderdale Lakes Boyd Anderson 0
Doral Academy 48, North Miami 21
Fort Lauderdale Calvary Christian 47, Pembroke Pines Somerset Academy 21
Fort Lauderdale Cardinal Gibbons 38, Miami Belen Jesuit 0
Fort Lauderdale NSU University 52, Miami BridgePrep Academy 0
Fort Lauderdale Westminster Academy 35, Jacksonville Bishop Snyder 6
Hallandale 8, Hialeah 6
Hialeah Goleman 42, Hialeah Gardens 7
Hollywood Avant Garde Academy 38, Palm Beach Christian Prep 6
Hollywood Hills 7, Pompano Beach 0
Hollywood South Broward 30, Pembroke Pines West Broward 26
Homestead South Dade 42, Southwest Miami 0
Jacksonville Bolles 42, Hialeah TRU Prep Academy 12
Lake Mary 36, North Miami Beach 16
Miami Archbishop Carroll 30, Somerset South Homestead 0
Miami Braddock 48, Miami Coral Park 7
Miami Beach 20, Hialeah American 0
Miami Booker T. Washington 41, Miami Norland 23
Miami Carol City 18, Westland Hialeah 12
Miami Coral Reef 35, Doral Ronald Reagan 14
Miami Country Day 14, SLAM West Palm Beach 8
Miami Ferguson 42, Hialeah Miami-Lakes 14
Miami Gulliver Prep 41, Somerset Silver Palms 0
Miami High 26, Coral Gables 22
Miami Immaculata LaSalle 28, Boynton Beach Somerset Canyons 18
Miami Palm Glades Prep 40, Miami Palmer Trinity 12
Miami Palmetto 35, Miami Edison 7
Miami St. Brendan 35, Miami Dade Christian 0
Miami Westminster Christian 68, Miami Florida Christian 0
Miramar 53, Pembroke Pines Charter 0
Miramar Everglades 12, Pembroke Pine Flanagan 0
Naples St. John Neumann 45, Deerfield Beach Somerset Academy Key 0
North Miami Mourning 14, Miami Varela 8
Parkland Douglas 32, Jupiter 0
Plantation 41, Davie Nova 32
South Miami 47, Miami Springs 6
St. Petersburg Lakewood 28, Miami Southridge 22
Sunrise Piper 38, South Plantation 20
Weston Cypress Bay 47, Coral Springs Taravella 0
TRACKING SOUTH FLORIDA (MIAMI-DADE & BROWARD) PROSPECTS – CLASSES 2023-2026. https://larryblustein.com/prospects/tracking-south-florida-prospects
For the past 52 years, we have spent plenty of time on football fields than anyone in the country. From games to practices, camps, combines and 7-on-7 events, we get to as many events as possible to see the athletes LIVE. Follow us on Facebook (Larry Blustein) Instagram (@OurBoyBlu) and Twitter (@larryblustein). Contact us at: This email address is being protected from spambots. You need JavaScript enabled to view it..