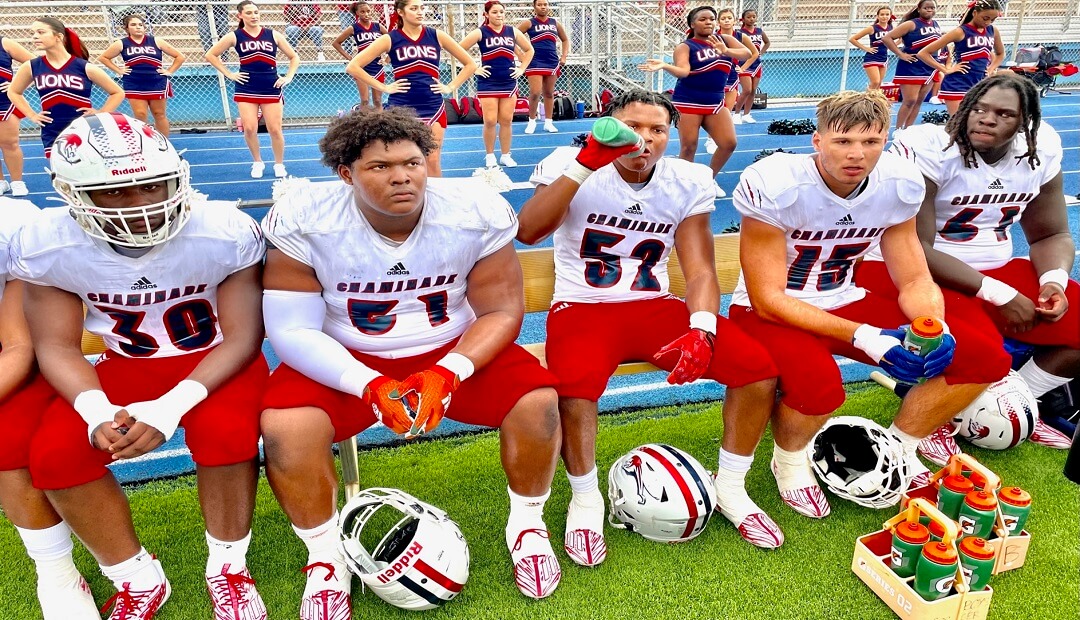 Just when you felt it was time to sit back and reflect on the first two weeks of the football season, Week 3 is here and it is loaded with key matchups.
No matter where you go in Miami-Dade or Broward Counties, there are games that will certainly showcase some of the talent we have here in this region of the state.
With many Top 20 Miami-Dade and Broward rivals facing off, there are contests that will be watched nationally as well as throughout the state.
Today, we bring you four games to watch – and in reality – we could have brought you many, many more.
No. 2 Miami Central at No. 8 Miami Booker T. Washington (Traz Powell), 7. A trip to Las Vegas to play national power Bishop Gorman and losing late truly provides everything we need to know about the Rockets – as they remain among the Top 10 teams in the country.
All we had to judge this team on, before last week, was an exhibition against Ocala Vanguard, but the game against Bishop Gorman revealed the type of team we have been watching for over two decades.
Four straight state titles, a share of a national championship brings Miami Central and head coach Jube Joseph and his football team into this evening's eagerly awaited meeting with the Tornadoes.
For head coach Tim "Ice" Harris and his football team, it was a quick rebuild over the past two years – along with a coaching staff that is among the best in the state.
A quick five-minute pre-season meeting with Plantation American Heritage provided a glimpse of what this program could be like. The following week was no contest against Miami Killian.
Last week, while it was only one drive, gave the "experts" something else to factor in against Edison, and the Red Raiders were driving and appeared to be ready to score when the game was postponed (until Oct. 16) by bad weather.
MIAMI CENTRAL ROCKETS (0-1)
Las Vegas Bishop Gorman, L 39-35
9/8 - at Miami Booker T. Washington
9/16 – Miami Carol City
9/21 – Hollywood Chaminade-Madonna
9/29 – North Miami Beach
10/6 – Miami Northwestern
10/13 – at Miami Norland
10/20 – GMAC Week
10/27 – at Miami Gardens Monsignor Pace
MIAMI BOOKER T. WASHINGTON TORNADOES (1-0)
Miami Killian, W 31-7
9/8 – Miami Central
9/14 – at Miami Immaculate LaSalle
9/22 – Miami Carol City
9/28 – at Miami Jackson
10/5 – at Miami Norland
10/12 – at Miami Northwestern
10-16 – Miami Edison
10/20 – GMAC Week
10/26 – Westland Hialeah
Bergen Catholic at No. 1 Hollywood Chaminade-Madonna, 7. Here's another game where the nationally rated Lions will be tested after winning easily in the first two games against national power St. Frances Academy and last week against area power Cardinal Gibbons.
What head coach Dameon Jones and his team will be after is a run at a national title, but to accomplish that, the first five games of the season will tell the story.
Bergen Catholic and successful head coach Vito Campanile comes south with an idea of matching up with Chaminade-Madonna and are loaded with talent on both sides of the ball. They are loaded and will provide a huge test.
This home game is just another hurdle that includes Plantation American Heritage and Miami Central the next two games.
BERGEN CATHOLIC CRUSADERS (2-0)
Red Bank Catholic, W 24-6
Iona Prep, New Rochelle, New York, W 38-7
9/8 – Hollywood Chaminade-Madonna
9/16 – at West Orange Seton Hall Prep
9/22 – at Ramsey Don Bosco Prep
9/30 – Wayne DePaul Catholic
10/14 – Montvale St. Joseph's Regional
10/21 – at Jersey City St. Peter's Prep
10/27 – at Paramus Catholic
CHAMINADE-MADONNA LIONS (2-0)
St. Frances Academy, Maryland, W 35-14
Fort Lauderdale Cardinal Gibbons, W 41-4
9/8 – Bergen Catholic, New Jersey
9/15 – at Plantation American Heritage
9/21 – at Miami Central
9/29 – at Coconut Creek
10/7 – at Fort Lauderdale Dillard
10/21 – Hollywood Avant Garde Academy
10/26 – at Boca Raton St. John Paul II
11/3 – at St. Petersburg Lakewood
Cocoa at No. 4 Fort Lauderdale St. Thomas Aquinas, 7. Here's an interesting matchup that will pit former St. Thomas Aquinas offensive coordinator Ryan Schneider bringing his defending state champion Tigers south to Fort Lauderdale to play a team that lost its opener to national California power St. John Bosco Prep but bouncing back to beat Fort Myers last week.
Schneider, a one-time Plantation High record-setting quarterback, has watched his team win two impressive games to open the season against Orlando Jones and Venice. Last year, the Raiders and head coach Roger Harriott had no problem beating Cocoa, 42-14.
COCOA TIGERS (2-0)
Orlando Jones, W 22-20
Venice, W 31-21
9/8 – at Fort Lauderdale St. Thomas Aquinas
9/22 – Eau Gallie
9/29 – Port St. Lucie Treasure Coast
10/6 – Sanford Seminole
10/13 – at Titusville
10/20 – Tituville Astronaut
10/27 – Palm Bay
11/3 – at Rockledge

ST. THOMAS AQUINAS (1-1)
St. John Bosco Prep, L 20-7
Fort Myers, W 49-0
9/8 – Cocoa
9/15 – Western
9/22 – Port St. Lucie Treasure Coast
9/29 – Miramar
10/6 – Lauderdale Lakes Boyd Anderson
10/13 – at Fort Lauderdale
10/20 – at Coconut Creek Monarch
10/27 – Fort Lauderdale Dillard
No. 16 Coconut Creek at No. 7 Davie Western, 7. Another interesting matchup will take place on this Friday when a much-improved Coconut Creek team heads west to play the Wildcats.
The Cougars got off to a great start before traveling to Gainesville, Georgia to play one of the top teams in the state. Coach Johnny Sloane and this program have been building toward this season.
For head coach Adam Ratkevich and his Wildcats, they enjoyed last week off after opening with a huge victory over Milton, Georgia in the prestigious Broward County National Football Showcase.
COCONUT CREEK COUGARS (1-1)
Lauderdale Lake Boyd Anderson, W (forfeit)
Gainesville, Georgia, L 30-22
9/8 – at Davie Western
9/14 – Plantation
9/22 – at Pompano Beach Blanche Ely
9/29 – Hollywood Chaminade-Madonna
10/6 – Fort Lauderdale
10/13 – West Boca Raton
10/20 – at Hollywood McArthur
10/27 – Deerfield Beach
DAVIE WESTERN WILDCATS (1-0)
Milton, Georgia, W 14-10
9/8 – Coconut Creek
9/15 – at St. Thomas Aquinas
9/22 – Coral Springs Taravella
9/28 – Sunrise Piper
10/6 – Plantation American Heritage
10/13 – at Weston Cypress Bay
10/20 – at Miramar
10/27 – Coral Glades
11/3 – at Plantation
In addition to those impressive matchups, here is a look at some of the other games on this Friday:
FRIDAY, SEPTEMBER 8
No. 15 Fort Lauderdale Cardinal Gibbons at No. 19 Fort Lauderdale Dillard, 7
Fort Lauderdale Westminster Academy at Bradenton Christian, 7
Goulds Palm Glades at Tavernier Coral Shores, 4
Hialeah American at Miami Lakes Barbara Goleman (Milander), 7:30
Hollywood South Broward at Sunrise Piper, 7
Lake Placid at Davie Nova, 7
Miami Belen Jesuit at Somerset Silver Palms, 7
No. 3 Miami Christopher Columbus at Tampa Jesuit, 7
No. 5 Miami Norland at No. 14 Miami Southridge, 7:30
Miami True North Classical Academy at Tallahassee Maclay, 7:30
Miramar Everglades at Cooper City, 7
Moore Haven at Miami Westminster Christian, 4
Naples Lely at Miami Gardens Monsignor Pace, 7:30
Parkland Douglas at No. 12 Plantation (PAL), 7
No. 13 Pompano Beach Blanche Ely at Lauderdale Lakes Boyd Anderson, 7
Somerset Homestead South at Miami Sunset, 3:30
St. Petersburg Lakewood at No. 10 Homestead (Harris Field), 7:30
SATURDAY, SEPTEMBER 9
Hialeah Miami Lakes at Hialeah (Milander), 7
Venice at No. 11 Miami Northwestern (Traz Powell Stadium), 6
THURSDAY SCOREBOARD
Coconut Springs Monarch 52, Hallandale 0
Coral Gables 36, South Miami 6
Coral Springs 22, Hollywood Hills 20
Delray Beach Atlantic 36, North Miami Beach 13
Doral Academy 35, Hialeah Gardens Mater Academy 7
Fort Lauderdale NSU University School 41, Marathon 7
Hollywood Avant Garde 19, Westland Hialeah 6
Homestead Everglades Prep 32, Miami Florida Christian 23
Pembroke Pines Charter 19, Coconut Creek North Broward Prep 14
Miami Braddock 34, Southwest Miami 28
Miami Coral Reef 28, Hialeah Gardens 0
Miami Dr. Krop 40, Miami Jackson 6
Miami Edison 21, North Miami 19
Miami Ferguson 28, Miami Beach 14
Miami Immaculata LaSalle 28, Somerset Academy 13
Miami Varela 36, Miami Coral Park 0
Miami Springs 20, Miami High 17
Miramar 61, Coral Glades 0
South Plantation 46, Oakland Park Northeast 0
Southwest Ranches Archbishop McCarthy 21, Fort Lauderdale 20
TRACKING SOUTH FLORIDA (MIAMI-DADE & BROWARD) PROSPECTS – CLASSES 2024-2027. LAST UP TRACKING SOUTH FLORIDA (MIAMI-DADE & BROWARD) PROSPECTS – CLASSES 2024-2027. LAST UPDATED: September 8, 2023. https://larryblustein.com/prospects/tracking-south-florida-prospects COLLEGE COACHES ARE WATCHING ALL THE TIME, SO LET'S KEEP UPDATING – This email address is being protected from spambots. You need JavaScript enabled to view it..
Transfer Season Heats Up In Miami-Dade & Broward. https://larryblustein.com/news/transfer-season-heats-up-in-miami-dade-broward
For the past 53 years, we have spent plenty of time on football fields throughout the country. From games to practices, camps, combines and 7-on-7 events, we remain steadfast to promote all south Florida's high school football prospects. Follow us on Facebook (Larry Blustein) Instagram (@OurBoyBlu) and Twitter (@larryblustein). Contact us at: This email address is being protected from spambots. You need JavaScript enabled to view it..