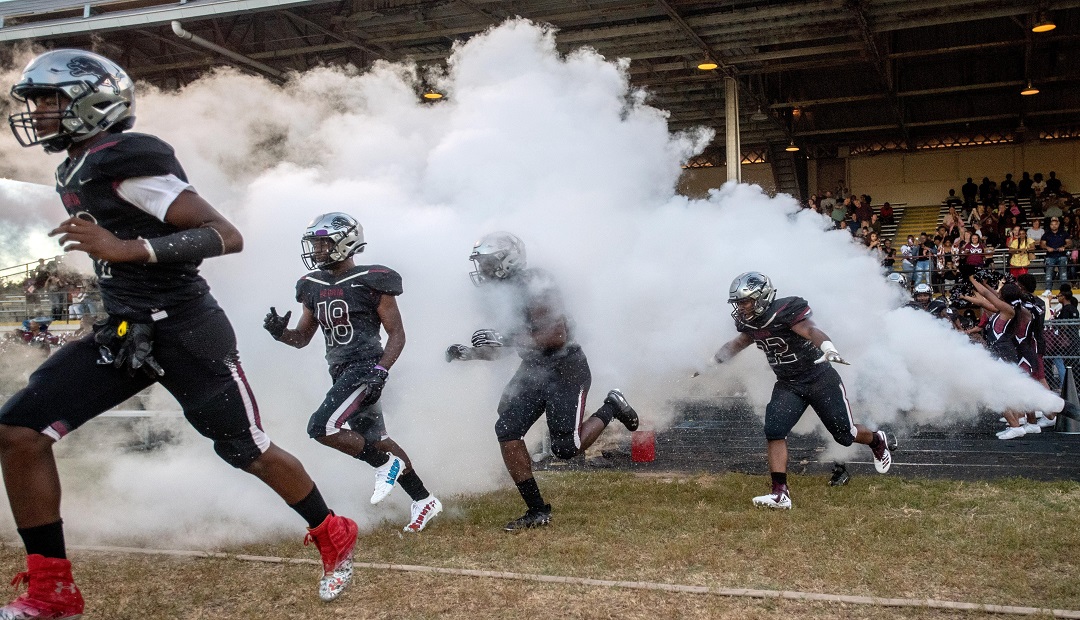 Here we are in the final weekend of the 2022 regular season, and while many seniors will be playing for the final time ever – there are others who will not only move on to the playoffs, but college as well.
This has indeed been a season to remember for so many teams in south Florida and yesterday, today and tomorrow, there will be some pretty good matchups to check out.
Here are five more games to keep an eye on:
No. 18 Hollywood Avant Garde Academy (6-2) at Miami Gardens Monsignor Pace (4-5), 7:30. While it has been a tough year for the Spartans, playing in a competitive 2M district, the Sharks have truly made a huge statement, picking up where this team left off last year when they were a No. 1 seed and unbeaten in the regular season. With just two setbacks, this team gets ready for the post season, but still has to go against Chaminade-Madonna once again to advance.
Hollywood South Broward (5-3) at No. 7 Miramar (7-1), 7. Outside the usual suspects, who continue to win at an amazing level, the Patriots have been as impressive as any team, winning a district and setting themselves up for a run in the post season. The Bulldogs have really fallen off – with key losses that have them limping down the homestretch. This is an essential game for them to get the momentum back.
Miami High (4-5) at No. 20 Miami Jackson (6-3), Curtis, 7:30. The Generals continue to roll and make a major statement with quality play on both sides of the ball. They continue to showcase a team that is slowly making their way back into the mix. Miami High started the week off with a tough loss to South Miami, but can certainly change the way this season ends as they prepare for the 2023 campaign with a number of younger prospects.
No. 11 Plantation (7-2) at No. 16 Davie Western (5-3), 7. One of the most competitive south Florida matchups for the final week of the regular season. Both headed to post season play, this promises to be a contest that features to explosive offenses and gifted defensive units. Both teams are well coached and are completely opposite in what they bring to the table. Both lost to Miramar and beat Coconut Creek, which are common opponents.
No. 8 Pompano Beach Blanche Ely (8-0) at No. 9 Fort Lauderdale Dillard (6-3). This Saturday night may the biggest "Soul Bowl" these teams have played in many years. Last year, the Panthers cruised. As the Tigers have remained unbeaten, Dillard has lost to the No. 1, No. 2 and No. 3 teams in the state – something that simply has never happened before. Throw out the records, this party is about to get real – as both teams look to use this non-district contest as a tune up for the post season.
SCORES FROM THURSDAY, NOV. 3
Coconut Creek North Broward Prep 44, Delray American Heritage 10
Coral Gables 32, Southwest Miami 6
Davie Nova 55, Coral Springs Charter 13
Hollywood Chaminade-Madonna 45, Port St. Lucie Treasure Coast 6
Hollywood Hills 46, Oakland Park Northeast 8
Miami Coral Park 19, Miami Sunset 14
Miami Dr. Krop 23, Hialeah 18
Miami Gardens TRU Prep 48, Miami Ferguson 7
Miami Norland 42, Miami Killian 14
Miami Palmetto 28, Coconut Creek 21
Miami Varela 14, North Miami Mourning 6
Somerset Academy Silver Palms 35, Hialeah Gardens Mater Academy 26
Tavernier Coral Shores 35, Miami Palmer Trinity 27
Wellington Palm Beach Central 34, Miami Carol City 28
West Palm Beach Cardinal Newman 54, Miami Gulliver Prep 14
SCORE FROM TUESDAY, NOV. 1
South Miami 28, Miami High 26
WAIT THERE ARE MORE
In addition to the top five matchups this week, there are other Friday and Saturday games to keep an eye on. See if your favorite program is back in action in Week 11:
FRIDAY, NOVEMBER 4
Coral Springs (3-6) at Coral Springs Taravella (1-8), 4
Deerfield Beach (3-7) at No. 14 Coconut Creek Monarch, Coral Springs (7-2), 7
Fort Lauderdale (5-4) at Fort Lauderdale Stranahan (4-5), DRV PNK, 7
Fort Lauderdale Pine Crest (8-1) at Boca Raton Saint Andrew's (6-3), 7
Hallandale (2-7) at Pembroke Pines Flanagan (1-8), 7
Hialeah American (2-7) at North Miami Beach (3-6), Traz Powell Stadium, 7:30
Hialeah Miami-Lakes (3-6) at Hialeah Goleman (4-5), Hendricks, 7:30
Lauderdale Lakes Boyd Anderson (1-8) at Hollywood McArthur (4-5), 7
Miami Beach (2-7) at Lakeland Lake Gibson (3-6), 7:30
Miami Belen Jesuit (4-5) at Miami Immaculata LaSalle (4-5), 7
Miami Coral Reef (7-2) at Hialeah Gardens (4-5), 3:30
Miami Edison (4-5) at Doral Academy (6-3), 7
Miami Southridge (5-4) at Homestead South Dade (2-6), Harris Field, 7:30
North Lauderdale Somerset Prep (0-6) at SW Ranches Archbishop McCarthy (1-7), 7
Parkland Douglas (6-3) at Coral Springs Coral Glades (2-7), 7
Pembroke Pines Charter (5-3) at Pompano Beach (5-4), 7
Pembroke Pines West Broward at Miramar Everglades, 7
Weston Cypress Bay (5-4) at South Plantation (7-2), 7
SATURDAY, NOVEMBER 5
Westland Hialeah (4-5) at North Miami (4-5), 7
TRACKING SOUTH FLORIDA (MIAMI-DADE & BROWARD) PROSPECTS – CLASSES 2023-2026. https://larryblustein.com/prospects/tracking-south-florida-prospects
For the past 52 years, we have spent plenty of time on football fields than anyone in the country. From games to practices, camps, combines and 7-on-7 events, we get to as many events as possible to see the athletes LIVE. Follow us on Facebook (Larry Blustein) Instagram (@OurBoyBlu) and Twitter (@larryblustein). Contact us at: This email address is being protected from spambots. You need JavaScript enabled to view it..
THIS WEEK'S TOP 5 MIAMI-DADE/BROWARD GAMES. https://larryblustein.com/news/this-week-s-top-5-miami-dade-broward-games-2