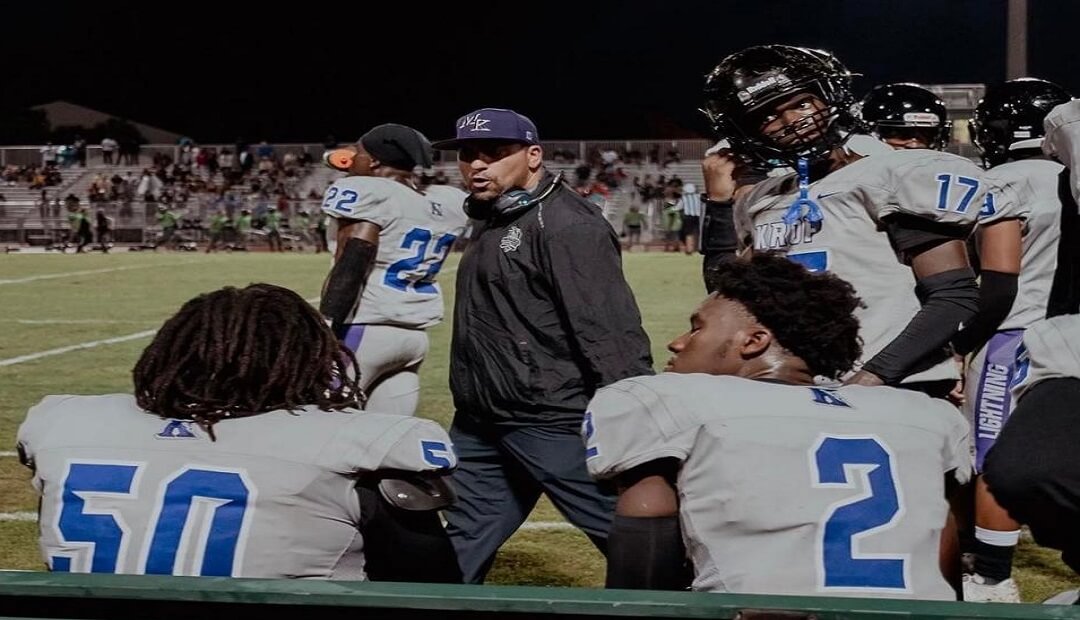 After nearly nine months since the last official high school game was played in the state of Florida – with Miami Christopher Columbus taking home the 4M title – we go back to work starting today.
With a nearly full slate of games, including the Broward County Football Showcase, players, coaches, cheerleaders, and fans will flock to games throughout south Florida.
One of the games that many will want to watch is Miami High and first year head coach Dorrean James traveling to Ives Park for a matchup with Dr. Krop.
The Stingarees, who finished 4-7 last year, are trying to turn things around with some new faces up and down the lineup.
With a win against Miami Ferguson in the kickoff classic last week, there is plenty of enthusiasm surrounding this team.
For Dr. Krop veteran head coach Tom Caporale, going 5-1 down the stretch last season and going two rounds deep in the state playoffs have fueled this program in the off season.
With several quality prospects coming back, this year could be a season where the team continues to turn the corner.
MIAMI HIGH (0-0)
8/24 – at Miami Dr. Krop
8/31 – Miami Beach
9/7 – at Miami Springs
9/21 – South Miami
9/28 – at Miami Christopher Columbus
10/6 – at Coral Gables
10/14 – at Miami Lakes Barbara Goleman
10/27 – Doral Academy
FIVE STINGAREES TO WATCH
2025 - Keyshawn Cone, WR.
TAPE: https://www.hudl.com/profile/17669088/Keyshawn-Cone
2025 - Rudy Jones Jr., QB.
TAPE: https://www.hudl.com/profile/18032944/Rudolph-Jones
2024 – Horace Snelling, Jr., LB.
TAPE: https://www.hudl.com/profile/18270913/Horace-Snelling-Jr
2026 – Tyrel Snelling, LB.
TAPE: https://www.hudl.com/profile/17915815/Tyrel-Snelling
2024 - RaChaude Williams, DB.
TAPE: https://www.hudl.com/profile/15723928/Rachaude-Williams
MIAMI DR. KROP (0-0)
8/24 – Miami High
9/1 – at Miami Southridge
9/7 – Miami Jackson
9/15 – at Hollywood Avant Garde Academy
9/21 – at Hollywood South Broward
10/5 – Miami Gardens Monsignor Pace
10/13 – Hollywood Hills
10/20 – GMAC WEEK
10/26 – at Hollywood McArthur
11/3 – Hialeah
5 LIGHTNING TO WATCH
2024 – Caleb Turner Allen, LB/EDGE.
TAPE: https://www.hudl.com/profile/16168953/Caleb-Turner-Allen
2025 - Qwincy Bonne-Annee, LB.
TAPE: https://www.hudl.com/profile/16390731/Qwincy-BonneAnnee
2024 - Khamari Griffin, DE.
2024 - Jamaal Haggins, QB/ATHLETE.
TAPE: https://www.hudl.com/profile/15268156/Jamaal-Haggins
2024 – Kal-el Pascal, DB.
TAPE: https://www.hudl.com/profile/15335920/KalEl-Pascal
In addition to that 7:00 matchup, here is a look at the rest of the games for Thursday, Friday and Saturday:
TODAY, THURSDAY, AUGUST 24
*Cedar Grove, Georgia at No. 18 Coconut Creek Monarch (Coconut Creek), 7:30
No. 17 Coconut Creek at Lauderdale Lakes Boyd Anderson, 7
Hialeah at Miami Edison (Traz Powell), 7
Hialeah Gardens vs. Miami Lakes Barbara Goleman (Milander), 7
Miami Carol City at Homestead South Dade (Harris Field), 7
Miami Coral Reef at South Miami (Tropical), 7
Miami Ferguson at Hialeah Gardens, 3:30
*Milton, Georgia at No. 8 Davie Western, 7:30
Oakland Park Northeast at Pembroke Pines Charter, 7
Parkland Douglas at Hollywood McArthur, 7
Westland Hialeah at Hollywood Avant Garde (Ansin Park), 7
Weston Cypress Bay at No. 20 Pembroke Pines West Broward (Flanagan), 7
FRIDAY, AUGUST 25
Coconut Creek North Broward Prep at Somerset, 3:30
Cooper City at Sunrise Piper, 7
Coral Shores at Miami True North Academy (Tropical), 3:30
Davie Nova at Pembroke Pines Flanagan, 7
Fort Lauderdale NSU University School at Coral Springs Charter (Coral Springs), 7
Fort Lauderdale Stranahan at No. 19 Fort Lauderdale Dillard, 7
Fort Lauderdale Westminster Academy at Orlando Lake Highland Prep, 7
Hallandale at No. 14 Plantation (PAL Plantation), 7
Hialeah American at Coral Gables, 3:30
*Highland Springs, Virginia at No. 12 Miramar, 7:30
Hollywood South Broward at Doral Academy, 7
Homestead Everglades Prep at Miami Varela, 3:30
Miami Archbishop Carroll at Somerset Silver Palms, 3:30
No. 4 Miami Christopher Columbus at Clearwater Academy International, 7:30
Miami Gardens Monsignor Pace at West Palm Beach Cardinal Newman, 7
Miami Immaculata LaSalle at Goulds Palm Glades, 7
No. 6 Miami Norland at Lakeland, 7:30
Miami Northwestern at Vero Beach, 7:30
No. 13 Miami Palmetto at No. 5 Homestead (Harris Field), 7:30
No. 16 Miami Southridge at Miami Jackson (Curtis Park), 7:30
Miami Springs at Miami Beach (Memorial), 7
Miami Sunset at Miami St. Brendan, 7:30
Miramar Everglades at Coral Springs Taravella, 4
North Miami at Miami Gulliver Prep, 3:30
North Miami Alonzo Mourning at Miami Braddock, 3:30
Pembroke Pines Somerset Academy at Lakeland Victory Christian, 7
South Plantation at Coral Springs Coral Glades, 7
SATURDAY, AUGUST 26
*Baltimore St. Frances Academy at No. 3 Hollywood Chaminade
*Bellflower St. John Bosco at No. 2 Fort Lauderdale St. Thomas Aquinas Madonna (St. Thomas), 12 noon
No. 10 Miami Booker T. Washington at Miami Killian (Tropical), 7
*St. John's, Washington D.C. at No. 7 Plantation American Heritage, 7:30
*BROWARD COUNTY NATIONAL FOOTBALL SHOWCASE.
TRACKING SOUTH FLORIDA (MIAMI-DADE & BROWARD) PROSPECTS – CLASSES 2024-2027. LAST UP TRACKING SOUTH FLORIDA (MIAMI-DADE & BROWARD) PROSPECTS – CLASSES 2024-2027. LAST UPDATED: August 24, 2023. https://larryblustein.com/prospects/tracking-south-florida-prospects COLLEGE COACHES ARE WATCHING ALL THE TIME, SO LET'S KEEP UPDATING – This email address is being protected from spambots. You need JavaScript enabled to view it..
Transfer Season Heats Up In Miami-Dade & Broward. https://larryblustein.com/news/transfer-season-heats-up-in-miami-dade-broward
For the past 53 years, we have spent plenty of time on football fields throughout the country. From games to practices, camps, combines and 7-on-7 events, we remain steadfast to promote all south Florida's high school football prospects. Follow us on Facebook (Larry Blustein) Instagram (@OurBoyBlu) and Twitter (@larryblustein). Contact us at: This email address is being protected from spambots. You need JavaScript enabled to view it..