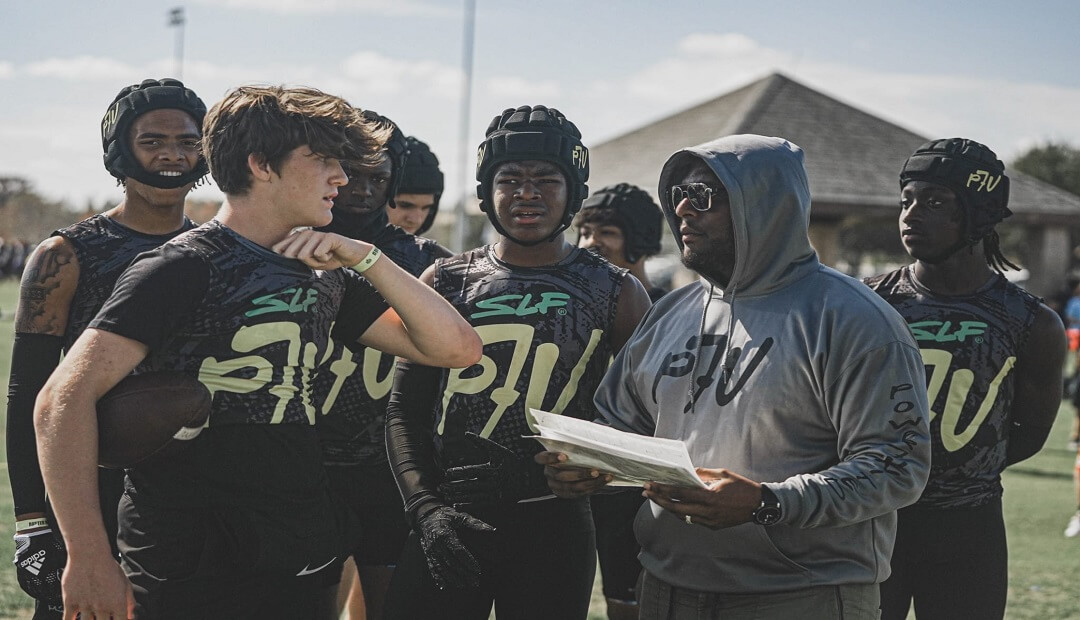 While much of the 7-on-7 spotlight this off-season has been taken by some of the traditional off-season powerhouses, this year a new name has popped into the competitive landscape.
Coach "Fresh" and his second year Power7United has turned heads so far this winter with championships at the Coach Mac 15 and Under event as well as taking home the varsity title at Fort Lauderdale's Eat Speed event and the Shook Tournament in Las Vegas.
With several tournaments left on the schedule, this team boasts some impressive south Florida athletes from throughout the talented Miami-Dade and Broward County areas.
"When you put together a group of gifted athletes who want to compete and play hard, this is results you get," Coach Fresh explained. "We have only gotten started as this team will be headed to a number of cities – such as Tampa and Orlando as well as several other competitive tournaments throughout the state."
In addition to Coach Fresh and several others, ex NFL player Jarius Wright from Arkansas and Mark Sanchez of Uschool and Bryce Sampson of Fort Lauderdale High all have played a huge roles in this program's success.
THE TEAM CONTINUES TO GET BETTER
In every tournament this team continues to have new players step up – and as they compete against more and more elite competition – you will see the bar raised higher.
Among those players who have stepped up so far include
2025 - Cristian "Chico" Bailey, Athlete, 5-8, 140, Fort Lauderdale
2024 - Clifton Brown, WR/DB, 5-10, 180, Miami True North Classical Academy
2024 - Nathen Choute, S, 5-10, 180, Fort Lauderdale Calvary Christian
2025 - Elijah D'oleo, WR, 6-2, 175, Pompano Beach Blanche Ely
2024 - Ian Donahue, WR, 6-4, 175, NSU University School
2024 - Mikhail Forrester, WR, Pembroke Pines Flanagan
2024 - Tyler Gilham, OLB/SS, Pembroke Pines Somerset Academy
2024 - Jamaal Haggins, WR/QB, 6-1, 180, Miami Dr. Krop
2024 - Kamari Holder, CB/FS, 6-0, 160, Miramar Everglades
2024 - Ronald Johnson, WR/DB/QB, 5-9, 160
2024 - Deron Latson, Athlete, 5-9, 155, Miami Norland
2027 - Carlos Avila-Lopez, WR, NSU University
2027 - Ethan Martinez, DB, NSU University School
2025 - Devin Mila, WR/DB, 5-8, 150, NSU University School
2027 - Amare Nugent, WR, 6-0, 155, Pembroke Pines Somerset Academy
2025 - Isaiah Rock, WR/DB, 5-11, 160, Miami Gardens Monsignor Pace
2024 - Colin Tracey, DB. 5-11, 170, Fort Lauderdale Calvary Christian Academy
2024 - Janireo Young, S/OLB, 5-11, 175, Miami Edison
2024 - Jett Yurgealitis, QB, 6-2, 195, NSU University School
TRACKING SOUTH FLORIDA (MIAMI-DADE & BROWARD) PROSPECTS – CLASSES 2024-2027. LAST UPDATED: February 16, 2023. https://larryblustein.com/prospects/tracking-south-florida-prospects COLLEGE COACHES ARE WATCHING ALL THE TIME, SO LET'S KEEP UPDATING – This email address is being protected from spambots. You need JavaScript enabled to view it.
For the past 53 years, we have spent plenty of time on football fields throughout the country. From games to practices, camps, combines and 7-on-7 events, we remain steadfast to promote all south Florida's high school football prospects. Follow us on Facebook (Larry Blustein) Instagram (@OurBoyBlu) and Twitter (@larryblustein). Contact us at: This email address is being protected from spambots. You need JavaScript enabled to view it..