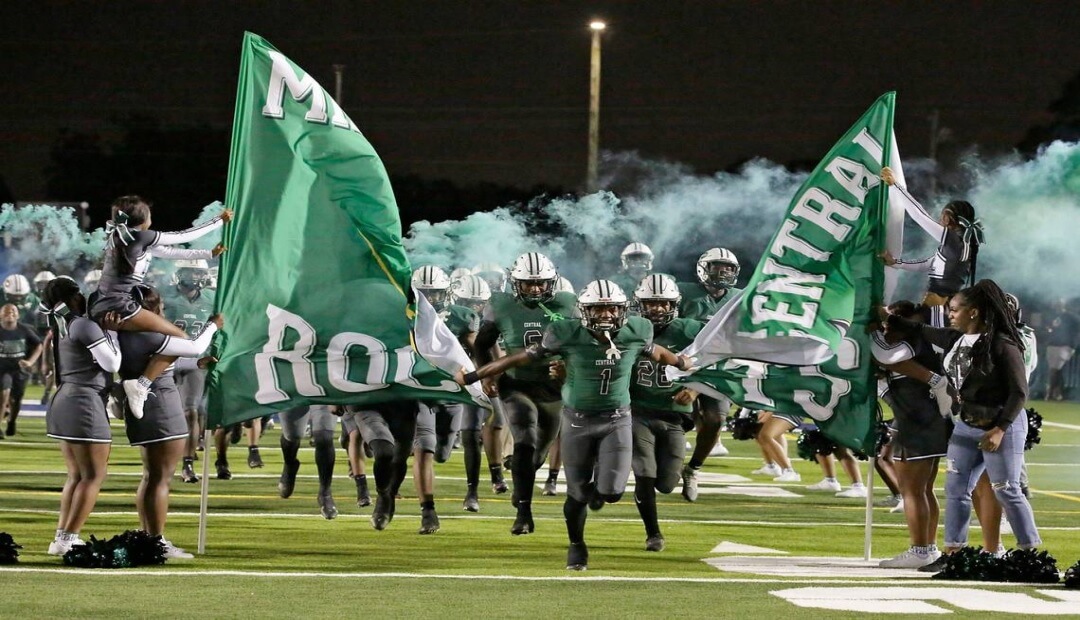 It is a rivalry in every sense of the word.
The mention of Miami Northwestern and Miami Central on the football field gets blood boiling and splits households right in half.
It's 71st Street vs. 9th Street, Bulls vs. Rockets. Coach Jube Joseph vs. Coach Michaelee Harris. One of the most fabled and competitive football matchups in the nation - where records mean absolutely nothing.
Some of the best talent that has ever played the game have elevated their play for this game, and that is why tonight (7:30) – when 3-2 Miami Central takes on 2-4 Miami Northwestern at "The Mecca", Traz Powell Stadium, a full house is expected for this showdown that has taken place 14 times in the past seasons.
The four-time defending state champion Rockets come in as a huge favorite, but that does not bother Bulls' fans, who know that the given "point spread" never takes into consideration the magnitude of this contest.
MIAMI CENTRAL VS. MIAMI NORTHWESTERN – PAST 14 MEETINGS – CENTRAL LEADS, 8-6
2022
Miami Central 42, Miami Northwestern 7
Miami Central 34, Miami Northwestern 30
2021
Miami Central 24, Miami Northwestern 21
Miami Central 49, Miami Northwestern 6
2020
Miami Northwestern 21, Miami Central 14
2019
Miami Northwestern 30, Miami Central 20
2018
Miami Central 38, Miami Northwestern 10
Miami Northwestern 19, Miami Central 15
2017
Miami Northwestern 21, Miami Central 7
Miami Northwestern 24, Miami Central 18
2016
Miami Northwestern 45, Miami Central 44
2014
Miami Central 56, Miami Northwestern 21
2013
Miami Central 44, Miami Northwestern 13
2012
Miami Central 35, Miami Northwestern 17
MIAMI NORTHWESTERN (2M, 2-4)
Vero Beach, L 19-13
Miami Jackson, W 63-0
Venice, L 63-46
Miami Edison, L 17-7
Miami Christopher Columbus, L 24-7
West Palm Beach Cardinal Newman, W 7-2
10/6 – at Miami Central
10/12 – Miami Booker T. Washington
10/20 – GMAC Week
10/27 – at Miami Immaculata
BULLS TO WATCH
2026 – Elijah Hardy, WR, 5-11, 175
2025 – Darius Johnson, WR, 5-11, 160
2027 – Nicholas Lennear, Athlete, 5-8, 150
2025 – Lewon Lurry Jr., DE, 6-3, 230
2026 – Calvin Russell, Athlete, 6-5, 185
MIAMI CENTRAL (2M, 2-2)
Las Vegas Bishop Gorman, Nevada, L 39-35
Miami Booker T. Washington, W 38-28
9/21 – Hollywood Chaminade-Madonna, L 31-28
9/29 – North Miami Beach, 54-0
10/6 – Miami Northwestern
10/13 – at Miami Norland
10/20 – GMAC Week
10/27 – at Miami Gardens Monsignor Pace
Miami Carol City (TBA)
5 ROCKETS TO WATCH TONIGHT
2025 – Randy Adirika, DL
2025 – Armondo Blount, DL
2025 – Ezekiel Marcelin, LB
2024 – Lawayne McCoy, WR
2024 – Luke Moise, OL
In addition to the Bulls and Rockets, there are some other Miami-Dade and Broward County games tonight as well:
Cooper City at SW Ranches Archbishop McCarthy, 7
Coral Gables at Miami High (Tropical), 7:30
Coral Springs at Coral Springs Coral Glades, 7
Fort Lauderdale Calvary Christian at Titusville, 7
Goulds Palm Glades Prep at Miami Palmer Trinity, 4
Hallandale at Hialeah (Milander), 7:30
Hialeah American at Miami Beach (Memorial), 7
No. 1 Hollywood Chaminade-Madonna at Fort Lauderdale Dillard, 7
Hollywood McArthur at No. 12 Coconut Creek Monarch (Coconut Creek), 7
Lauderdale Lakes Boyd Anderson at No. 4 Fort Lauderdale St. Thomas Aquinas, 7
Miami Florida Christian at Naples St. John Neumann, 7
Miami Gulliver Prep at Somerset Silver Palms, 7:30
No. 20 Miami True North Classical Academy at Miami St. Brendan, 7
Miami Ransom Everglades at Fort Lauderdale Pine Crest, 7
Miami Varela at North Miami Mourning, 3:30
Miami Westminster Academy at Homestead Everglades Prep, 4
North Miami Beach at Lake Mary, 7
Pembroke Pines Flanagan at Miramar Everglades
No. 7 Plantation American Heritage at No. 16 Davie Western, 7
Pompano Beach at Hollywood Hills, 4
Somerset Prep at Fort Lauderdale Westminster Academy, 7
Southwest Miami at Homestead South Dade (Harris Field), 7:30
South Plantation at Sunrise Piper, 7
Stuart Martin County at Fort Lauderdale Stranahan (Lockhart), 6:30
THURSDAY'S SCORES
Fort Lauderdale NSU University School 43, Coconut Creek North Broward Prep 22
Miami Archbishop Carroll 49, Somerset Homestead South 14
Miami Braddock 35, Miami Coral Park 0
Miami Carol City 25, Westland Hialeah 8
Miami Country Day 37, South Daytona Beach Warner Christian 0
Miami Gardens Monsignor Pace 28, Miami Dr. Krop 7
Miami Lakes Barbara Goleman 41, Hialeah Gardens 0
Miami Norland 20, Miami Booker T. Washington 19
Miami Springs 13, South Miami 0
Miramar 61, Pines Charter 0
Plantation 34, Davie Nova 6
Weston Cypress Bay 43, Coral Springs Taravella 3
WEDNESDAY SCOREBOARD
Miami Palmetto 13, Miami Edison 0
Coral Springs Charter at Oakland Park Northeast, 7
Hialeah Gardens at Miami Lakes Goleman (Milander), 7:30
SATURDAY, OCTOBER 7
Doral Academy at North Miami (Midlander), 7
No. 6 Homestead at No. 3 Miami Christopher Columbus (Tropical), 7
TRACKING SOUTH FLORIDA (MIAMI-DADE & BROWARD) PROSPECTS – CLASSES 2024-2027. LAST UPDATED: October 6, 2023. https://larryblustein.com/prospects/tracking-south-florida-prospects COLLEGE COACHES ARE WATCHING ALL THE TIME, SO LET'S KEEP UPDATING – This email address is being protected from spambots. You need JavaScript enabled to view it..
Transfer Season Heats Up In Miami-Dade & Broward. https://larryblustein.com/news/transfer-season-heats-up-in-miami-dade-broward
For the past 53 years, we have spent plenty of time on football fields throughout the country. From games to practices, camps, combines and 7-on-7 events, we remain steadfast to promote all south Florida's high school football prospects. Follow us on Facebook (Larry Blustein) Instagram (@OurBoyBlu) and Twitter (@larryblustein). Contact us at: This email address is being protected from spambots. You need JavaScript enabled to view it..