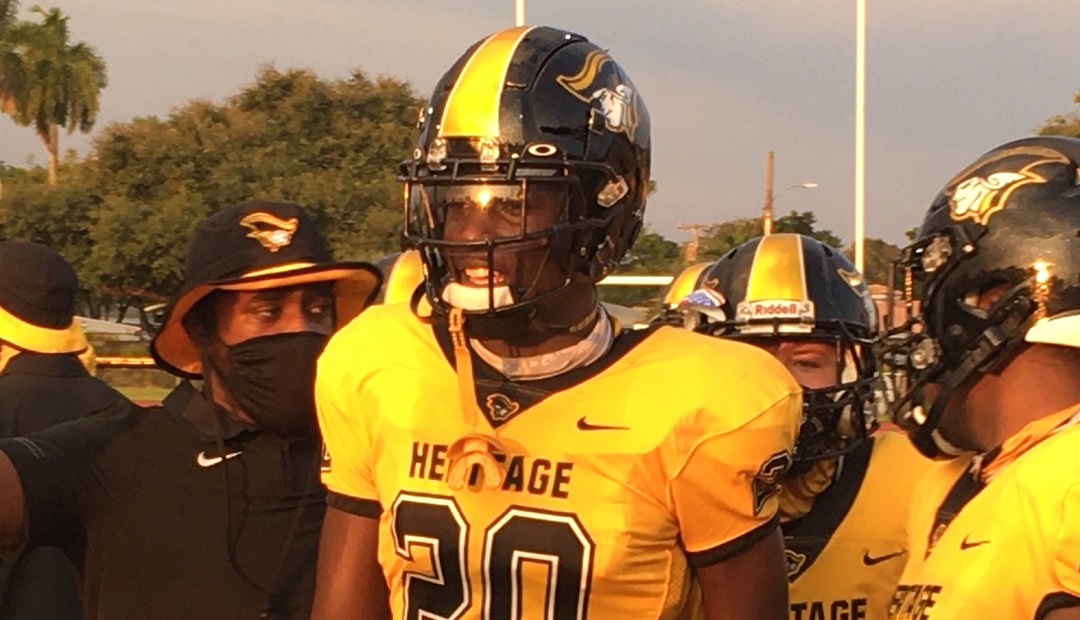 Local high school football fans finally got a taste of live action last Friday when local programs hit the field.
For the second straight week, Chaminade-Madonna in Hollywood was the place to be for football – as the three-time defending 3A state champions had the chance to play host to 5A power Plantation American Heritage.
It was certainly a game where head coach Pat Surtain and his Patriots and Dameon Jones and his Lion had the chance to face elite competition.
With a number of stars on both sides of the ball, it brought out media and scouts who wanted to see high level football.
While this was a defensive game – and mistakes were made on both sides of the ball, American Heritage came away with a 7-3 win – and started out the year on the right foot.
It was indeed a night where college commits and top-flight seniors and underclassmen shared the spotlight as 500 fans were treated to south Florida high school football.
Among the area commits included American Heritage safety James Williams (University of Miami), who certainly did not disappoint. He was all over the field and showed the nation that he is ready to make a huge impact for the Hurricanes over the next few years.
In addition to Williams, the Patriots boasted recent Syracuse commitment Orande Gadsden II, who did his part at receiver for a young offense.
Other American Heritage seniors who had a huge showing included juniors Vinson Davis II, Slot, Brian Blades, S, and offensive lineman Chris Stumpo.
The Patriots did have a chance to showcase some impressive underclassmen – such as juniors Belizaire Bassette II, DT, Marvin Jones Jr., DE, Jaeden Kinlock, LB, Miguel Cedeno (OL) and versatile Jacolby Spells, CB/WR.
Bassette was impressive as was Spells, who is as good as you get, but Jones was indeed the star of stars. Remember, he was a receiver before making the switch to defensive end – and he responded in a major way – and he will only get better as he learns more and more.
Kinlock is going to be a very impressive and a vital part of this program moving forward.
The 2023 class also showed some of the talent for the future – such as impressive linebacker David Vadala, who once again led the way and was all over the field, showing that he is indeed one of the best in the state, safety Daemon Fagan, who came up big with the game-sealing interception, talented running backs Mark Fletcher and Jeremy Dinkins III and first year starting quarterback Blake Murphy, who had his moments, but it's all about learning – and as this team heads to Clearwater this Friday to take on the Tornadoes, he is better for having a game under his belt against a quality opponent.
FRANKLIN INJURED, DEFENSE STANDS TALL
For Chaminade-Madonna, all eyes were on University of Miami running back commitment Thad Franklin, who scored 4 times and had 160 yards rushing in the first game of the season against Champagnat Catholic, had a few runs, but was injured late in the game.
It's a young offense that is still learning and coming together and will be tested. Senior quarterbacks Jaylon Tolbert and junior Brady Kelly got plenty of snaps. Senior receiver Joshua Jenkins and freshman phenom running back Davion Gause got some looks as well.
What the Lions do have this year – and will be one of the best in Florida, is defense. They are loaded. Seniors Allan Haye Jr. (DL, University of Miami commit), Ohio University commitment Torrie Cox Jr. (DB) and Malcolm Major to name a few.
The juniors are getting to be household led by Auburn University commitment Brian Dilworth, who is already one of the top defensive backs in Florida.
In addition, there are Kenyatta Jackson Jr., DE, Jamaal Johnson, DE and Kalun-j Matthew, DT. Linebackers Kheylan Martin-Brown and Dylan Reid. Defensive backs D'Angelo Ponds, Jordan Lynch and Ryan Turner.
CALVARY CHRISTIAN MOVES TO 2-0
Last year's top seed, Fort Lauderdale Calvary Christian Academy moved to 2-0 with a 50-0 win over Homestead Somerset Academy. The game was a last minute replacement game for American Heritage Delray, who cancelled the game due to the tragic passing of head coach Brian Sheridan.
The Eagles and head coach Kirk Hoza opened with a 19-0 win against West Palm Beach Cardinal Newman.
After losing its opener to three time defending 3A state champion Chaminade-Madonna, Champagnat Catholic bounced back with a 42-0 win against 3A Somerset Silver Palms.
For the past 50 years, we have spent more time on football fields than anyone in the country. From games to practices, camps, combines and 7-on-7 events, nobody has evaluated more football talent than we have – and as we are in the midst of a pandemic like no other time before – we will remain steadfast to promote all south Florida's high school football prospects. Follow us on Facebook (Larry Blustein- SFHSports) and Twitter (@SFHSSports - @larryblustein). Contact us at: This email address is being protected from spambots. You need JavaScript enabled to view it..